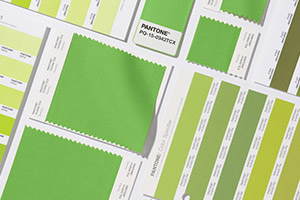 The Pantone website states that the Colour of the Year is a symbolic colour selection; a colour snapshot of what we see taking place in our global culture that serves as an expression of a mood and an attitude.
For 2017, the chosen colour is Greenery (15-0343). This is a refreshing and revitalising shade and is symbolic of new beginnings. It is described as "tangy yellow-green" often seen in foliage. It speaks to our need to explore, experiment and reinvent.
Influencing Trends
Pantone has been choosing a colour every year since 2000 that reflects the current cultural climate. In the following year, the colour has historically influenced trends in all facets of design including architecture, interior décor, fashion, food, beauty, travel and graphic design.
Why was Greenery chosen?
Leatrice Eiseman is the Executive Director of the Pantone Color Institute and Charlotte Luxford, Home and Design Editor recently asked her, "What had influenced her choice?" Her answer is illuminating and explicit.
"The Pantone team is dedicated to doing its homework. It's always in your peripheral vision so-to-speak – as I travel, my eye picks up on interesting usage of color and I started to see Greenery in pop culture, even in stage lighting and then in film. There has been a much greater usage of green lately – we are definitely seeing it in fashion's spring and summer collections for next year, which of course is a big influence."
The film, Doctor Strange was very influential
"The best example, however, is the Benedict Cumberbatch film, Doctor Strange. In the movie he wears a green amulet and there's actually a green that's used as a special effect in the film. My husband is a member of the Academy of Motion Picture Arts and Sciences (AMPAS) so we get a huge number of films every year through so that he can judge them and vote for them, and the moment I saw the publicity release I noticed the use of green."
Reconnection with nature
"Greenery bursts forth in 2017 to provide us with the reassurance we yearn for amid a tumultuous social and political environment. Satisfying our growing desire to rejuvenate and revitalise, Greenery symbolises the reconnection we seek with nature, one another and a larger purpose."
She went on to add, "Through its reassuring yet assertive vibrancy, Greenery offers us self-assurance and boldness to live life on our own terms, during a time when we are redefining what makes us successful and happy."
A neutral shade with lots of possibilities
Pantone calls Greenery, "Nature's neutral"—a hue more prominently worn during spring and summer, but one they encourage people to wear as a statement colour all year round.
It's a colour that symbolises:
Beginnings
A New Year
Vegetarian Trends
Nature
Outdoors
Grass
Environment
Minimalism